It has happened. We officially have a TEENAGER dwelling here in the Kirady household.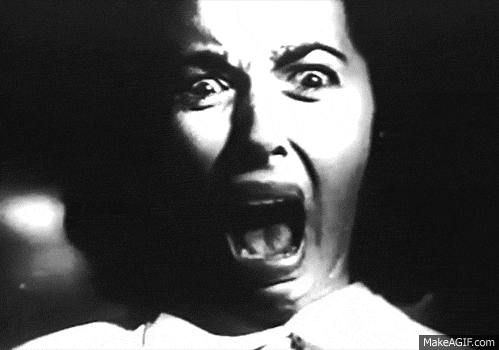 This day has been looming over us since the day I gave birth to a girl.
"She's cute now," they all said. "But just wait until she becomes a teenager!" These words were always followed by a derisive laugh. A mocking smile. A scoff. Sometimes, sometimes, a sad, knowing expression as the speaker stared off into the far distance, haunted still by the memory of their own horrors past.
Because girls apparently transform from sugar-n-spice-and-everything-nice, into explosive Dothraki demon spawn the very second they turn the dreaded thirteen.
It is known.
So I awoke the morning of her 13th birthday after a restless night filled with nightmares of raging Demagorgons with pastel-pink hair and eyebrows on fleek, expecting to find my sweet, thoughtful, lovable girl gone, and replaced by some pimpled, insecure, moody monster screaming that she hates me and that she's "sorryyyyy for living!"
But instead, I was deeply shocked to find my same, sweet, thoughtful, lovable now-thirteen-year-old girl, wearing a paper crown she made at school and chanting, "It's my birthday! It's my birthday!" God I love that kid.
I guess "the change" doesn't happen overnight after all. Huh.
Even though she hasn't turned into the hormonal terror everyone promised me she would become (yet), turning thirteen is still a really big deal. This of course means that her party celebration also had to be a really big deal.
It is known.
The theme she chose this year? Why, Australia of course! She's been obsessed with the country since forever, and in light of our vacation to The Land Down Undah, this theme was very fitting! It also had to be very budget friendly, due to said trip.
Invitations went out to her friends asking that they join her for a delicious Aussie dinner on the "Barbie", snorkeling in the Great Barrier Reef (dip in our pool), and an overnight adventure in the "Outback" (camp-out sleepover in the backyard). Invitation cards were homemade and inspired by this:
Decorations needed to be inexpensive, so I made most of them myself, making good use of our printer and craft supplies. I found some wonderful free printables online and fished for great ideas on Pinterest, and voila! Not too bogan, if you ask me!
Food is always something I tend to go overboard with. In the past, I've ordered several pizzas too many, made elaborate 3-tiered cakes for a party of five small children, and prepped enough appetizers to feed a small country. So I want to make sure everyone eats well. Is that such a crime? Well, no, but it does get incredibly expensive.
So I VOWED to be good this year. I tried, I really did. I kind of succeeded. Yes, I still went a teeny bit nuts, but all in all, the food was super simple and none of it broke the bank!
THE MENU
Crocodile burgers and Dingo Dogs
Snackies and Goodies. And oh my god, the edible sea glass! Time consuming, but so worth it!
Coral Reef Cake: Fluffy Vanilla cake with Mango Cream Filling and Coconut Vanilla Buttercream Icing, topped with homemade candy coral. Simple, elegant, and just the right size. Oh…And cupcakes too. Gotta have cupcakes.
Breakfast the next morning:
The party was a huge success! The girls spent the whole evening in the pool, got some great photos together, laughed a lot, watched a movie, had fun sleeping in the tent, and thoroughly enjoyed all the food!
The best part? I didn't have to organize any activities. They just entertained themselves!
Mom for the win.
Need help planning your next party, or have some great party planning tips you'd like to share? Ask or comment below!